BE A FROG
Floating University Berlin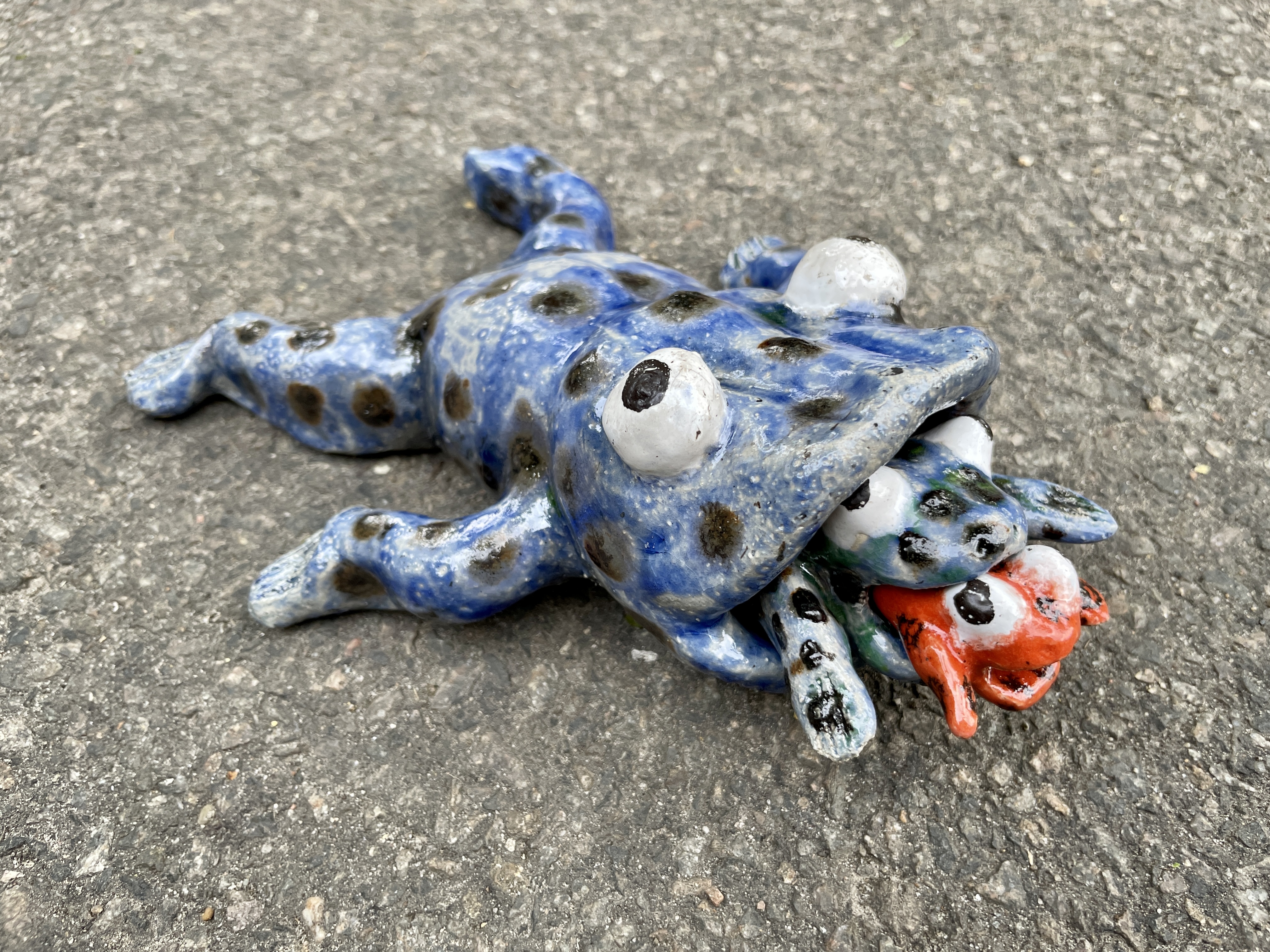 Mixed media 2022
Video 4K, glazed ceramic


In der Ausstellung "BE A FROG - Frog Yourself!" sind die BesucherInnen eingeladen, das vielfältige Frosch-Universum in der Floating University zu erkunden. Aus der Froschperspektive werden die Hierarchien des Sozial-Darwinismus beleuchtet und hyperlokale Strategien für symbiotische Beziehungen zwischen Mensch und Natur entwickelt. Das Video "Terra π" (2022) wurde an der Floating University produziert und im Internationalen Congress Centrum Berlin (ICC) gefilmt. Die BetrachterInnen werden im Video von einem Frosch-Mensch, durch die sozial-darwinistischen Hierarchien des kapitalistischen Albtraums geführt. Gaia, die personifizierte Erde, versucht aus einer klaustrophobischen Kanalisation, die ihr Wesen in der Linearität gefangen hält, auszubrechen.

"Frog Yourself!" Verwandeln Sie sich in einen Frosch und betrachten die Gesellschaft von unten, aus der Froschperspektive!


ENG
In the exhibition "BE A FROG - Frog Yourself!" visitors are invited to explore the diverse frog universe in the Floating University. From the frog's perspective, the hierarchies of social Darwinism are illuminated and hyperlocal strategies for symbiotic relationships between humans and nature are developed. The video "Terra π" (2022) was produced at the Floating University and filmed at the International Congress Centrum Berlin (ICC). In the video, viewers are guided by a frog-man through the social Darwinist hierarchies of the capitalist nightmare. Gaia, the personified earth, tries to break out of a claustrophobic sewer that traps her being in linearity.

"Frog Yourself!" Transform into a frog and view society from below, from a frog's perspective!