NEW SOIL
Aprés Déssert, A:D: Curatorial, Berlin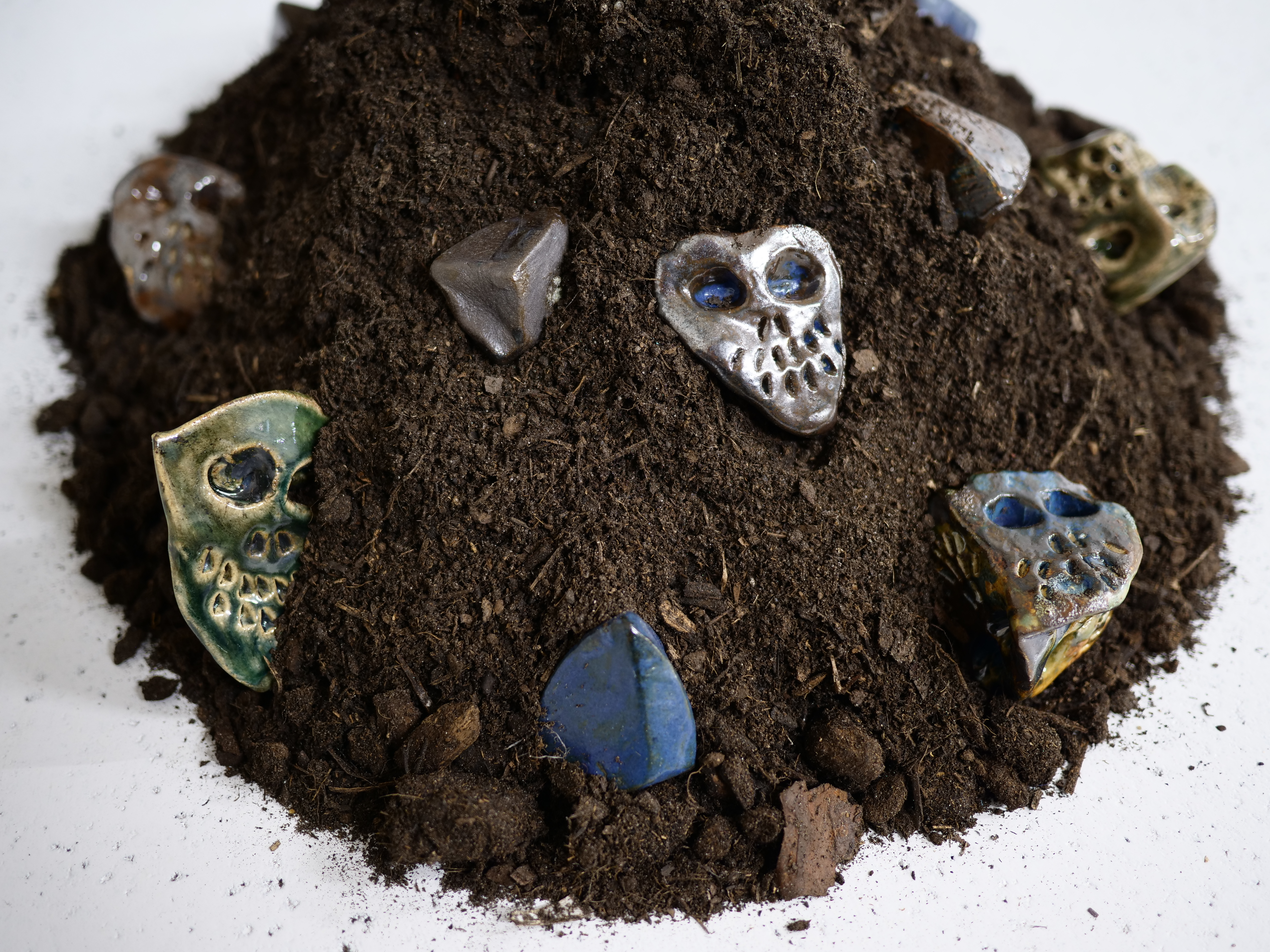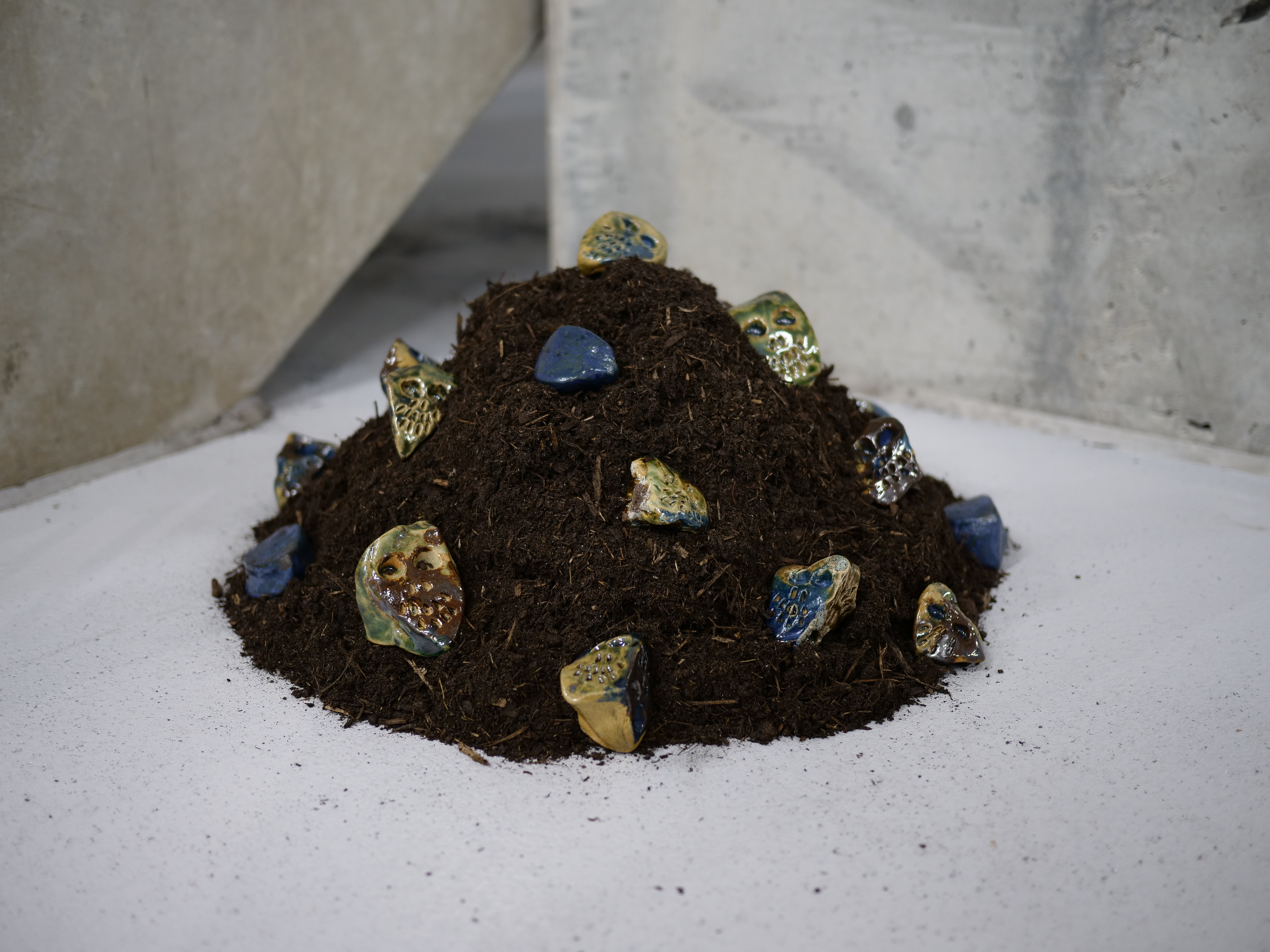 2023, glazed ceramics, soil


"In 'New Soil' graben zwei Maulwürfe unermüdlich ein komplexes Netzwerk von Tunneln in der dunklen Erde aus, angetrieben von einem instinktiven Streben nach einem verborgenen Schatz, von dem sie nichts wissen. Dieser Prozess zieht eine ergreifende Parallele zu den Bergbaupraktiken im Kongo, wo die Gewinnung von Kobalt und Lithium den Anforderungen einer auf Verbraucher ausgerichteten und technologisch fortschrittlichen Industrie gerecht wird. Doch im Gegensatz zur sauberen und umweltbewussten Fassade, die von Unternehmen projiziert wird, zeigt die harte Realität der Bergbauarbeit in diesen Regionen eine beunruhigende Geschichte von Ausbeutung und unmenschlichen Arbeitsbedingungen, die eine verheerende Spur in der Umwelt hinterlassen.

Die Bedeutung des Fortschritts liegt im subterrane Bereich des Maulwurfs, denn nur durch Störungen in den Fundamenten darunter können transformative Veränderungen an die Oberfläche gebracht werden. Wenn sich der Boden lockert, zeigt er einen fruchtbaren Boden voller Potenzial, der fähig ist, eine revolutionäre systemische Veränderung zu nähren. Die Handlungen der Maulwürfe untergraben und destabilisieren die komplexen Grundlagen unseres bestehenden Systems und wecken Zweifel an seiner Stabilität und Nachhaltigkeit. Gleichzeitig verkörpern sie die doppelte Rolle eines Doppelagenten und eines Whistleblowers und verstehen, dass diejenigen, die das Unbekannte annehmen und das Reich der Möglichkeiten schützen, diejenigen sind, die echte Innovationen und unvorhergesehene Ergebnisse freisetzen können."

ENG
"In 'New Soil,' two moles tirelessly excavate an elaborate network of tunnels in the dark earth, driven by an instinctual pursuit of a hidden treasure unbeknownst to them. This process draws a poignant parallel to the mining practices employed in the Congo, where the extraction of cobalt and lithium caters to the demands of a consumer-centric and technologically advanced industry. However, contrary to the sanitized and environmentally conscious facade projected by corporations, the stark reality of mining labor in these regions reveals a distressing tale of exploitation and deplorable working conditions, leaving a devastating imprint on the environment.

The significance of progress resides in the subterranean domain of the mole, for only by disturbing the foundations beneath can transformative changes be ushered to the surface. As the soil loosens, it reveals a fertile ground ripe with potential, capable of nurturing a revolutionary systemic shift. The moles' actions subvert and destabilize the intricate underpinnings of our existing system, engendering doubts about its stability and sustainability. Simultaneously, they embody the dual role of a double agent and a whistleblower, understanding that those who embrace the unknown and safeguard the realm of possibilities are the ones who can truly unlock genuine innovation and unforeseen outcomes."