PANOPTICONTHERA EXHIBITION
REH Transformer, Berlin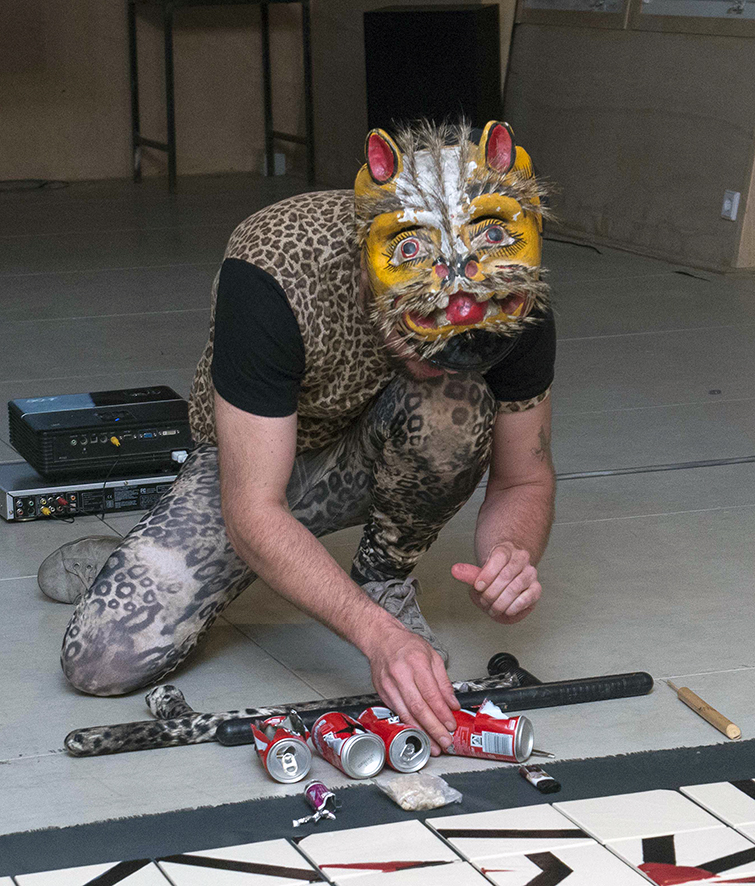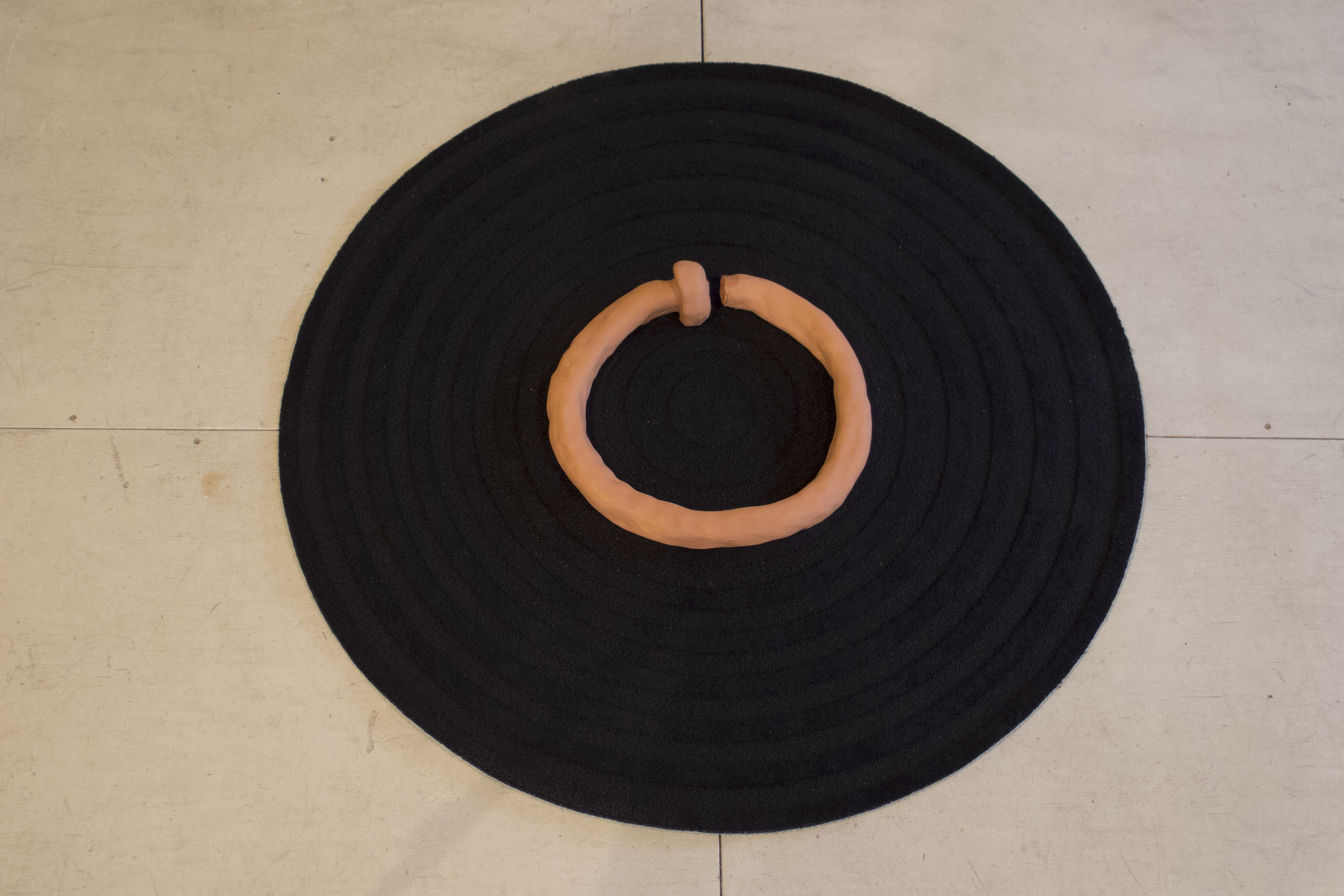 Mixed media installation ca. xxx cm x xxx cm
glasierte Keramik, Schlagstock, Coca-Cola Dosen, Textil, Kopal, Kohle, Bambusflöte.


Marco Schmitts Ausstellung bei REH Transformer reicht vom Film (Mexiko, 2014) bis zu Skulpturen aus verschiedenen Materialien. Ästhetisch erinnern die glasierten Tonskulpturen an allgemein bekannte Objekte und Ikonen aus dem Alltag der Polizei und/oder privater Sicherheitsdienste. Schmitts Arbeiten generieren abstrakte und verzerrte Elemente analog zu verschlüsselten Codec-Parametern, die von Militär oder Top-Geheimdiensten verwendet werden. Eine Arbeit vereint 64 Einzelelemente aus handgefertigten glasierten Terrakottafliesen mit einem panoptikumartigen Symbol darauf. Die Kacheln können in verschiedenen neuen Sequenzen angeordnet werden, um das ursprüngliche Symbol und die Bedeutung zu stören. Schmitt verschmilzt High-Tech und Mystik. Das Hightech wird zum Highaztec. Die panoptische High-Tech-Matrix verwandelt sich in eine mystische panoptische Matrix und dann wieder zurück. Die Grenzen sind unscharf. Er kodiert und dekodiert die Objekte gleichzeitig. Der Titel der Ausstellung "Panopticonthera Subobscura" bezieht sich auf das Phänomen der "Subobscurity", das auf etwas Verborgenes im Dunkeln hinweist. Was auch immer das sein mag, Schmitt versucht es an die Oberfläche zu kitzeln und damit die (Infra-)Struktur sichtbar zu machen. Geheime Institutionen operieren im Dunkeln, was eine grundlegende Praxis ist, die unabdingbar ist, wenn sie ihre Verschlüsselungstechnik nicht enthüllen wollen. Sie funktioniert durch diesen Ausdruck: "Sicherheit durch Unsichtbarkeit". Diesen Anspruch macht sich Schmitt für seine persönliche Unterzeile der Ausstellung zunutze: "Mystik durch Unsichtbarkeit". Er schöpft Energie aus dem elektrischen Feld der Subobskurve. Auch die Subobskurze ist transzendental. Der Subobscure wird körperlich und entwickelt einen transzendentalen Körper innerhalb der Installation und des Films. Er offenbart den Prozess, durch den sich mehrdeutige visuelle Symbole verzerren, um unendliche Bedeutung zu erlangen. Der Film wurde in Mexiko an symbolisch hoch aufgeladenen Orten gedreht: ein indigener Tempel, ein Atztec-Plateau und eine achteckige Stadtarchitektur. Die Verschlüsselungstechnik der streng geheimen Dienste weist eine Reihe interessanter Ähnlichkeiten mit der Bedeutungsgebung von Bildern und der aztekischen und indianischen Konstruktion von Gottheiten auf. Diese erscheinen uns heute recht komplex. Schmitt arbeitet mit einer stark aufgeladenen mythologischen Symbolik und nutzt sie als Plattform, um neue Ausdrucksformen von Spiritualität und westlicher High-Tech-Kultur auf subversive Weise zu verbinden.

ENG
Marco Schmitt ́s exhibition at REH Transformer extends from film (Mexico, 2014) to sculptures made of various materials. Aesthetically, the glazed clay sculptures recall commonly known objects and icons from everyday affairs of the police and/or private security services. Schmitt's works generate abstract and distorted elements analogous to encrypted codec parameters used by military or top secret services. One work unifies 64 single elements of handmade glazed terracotta tiles with a panopticon- like symbol on it. The tiles can be arranged in various new sequences to interfere with the original symbol and significance. Schmitt merges high-tech and mysticism. The high-tech becomes high-aztec. The high-tech panoptic matrix transforms into a mystical panoptic matrix and then back again. The borders are indistinct. He encodes and decodes the objects simultaneously. The title of the show "Panopticonthera Subobscura" refers to the phenomenon of "Subobscurity" which indicates something hidden beneath the darkness. Whatever that may be, Schmitt tries to tease it up to the surface and thus making the (infra)structure visible. Secret institutions operate in the dark, which is a basic practice essential if they are not unveil their encrypting technique. It functions through this expression: "Security through obscurity". Schmitt makes use of this claim for his personal subline of the show: "Mysticism through subobscurity". He draws energy from the electric field of the subobscure. The subobscure is also transcendental. The subobscure gets physical and develops a transcendental body within the installation and the film. It reveals the process by which ambiguous visual symbols distort to gain infinite significance. The film was shot in Mexico at highly loaded symbolic locations: an indigenous temple, an Atztec plateau and an octagonal urban architecture. The encrypting technique of the top-secret services bears a number of interesting similarities with the signification of images and the Aztec and indigenous construction of deities. These appear quite complex to us today. Schmitt works with heavily charged mythological symbolism and used it as a platform to link new expressions of spirituality and western high-tech culture in a subversive way.