FROM TAIL TO TAIL
Melange Gallery, Cologne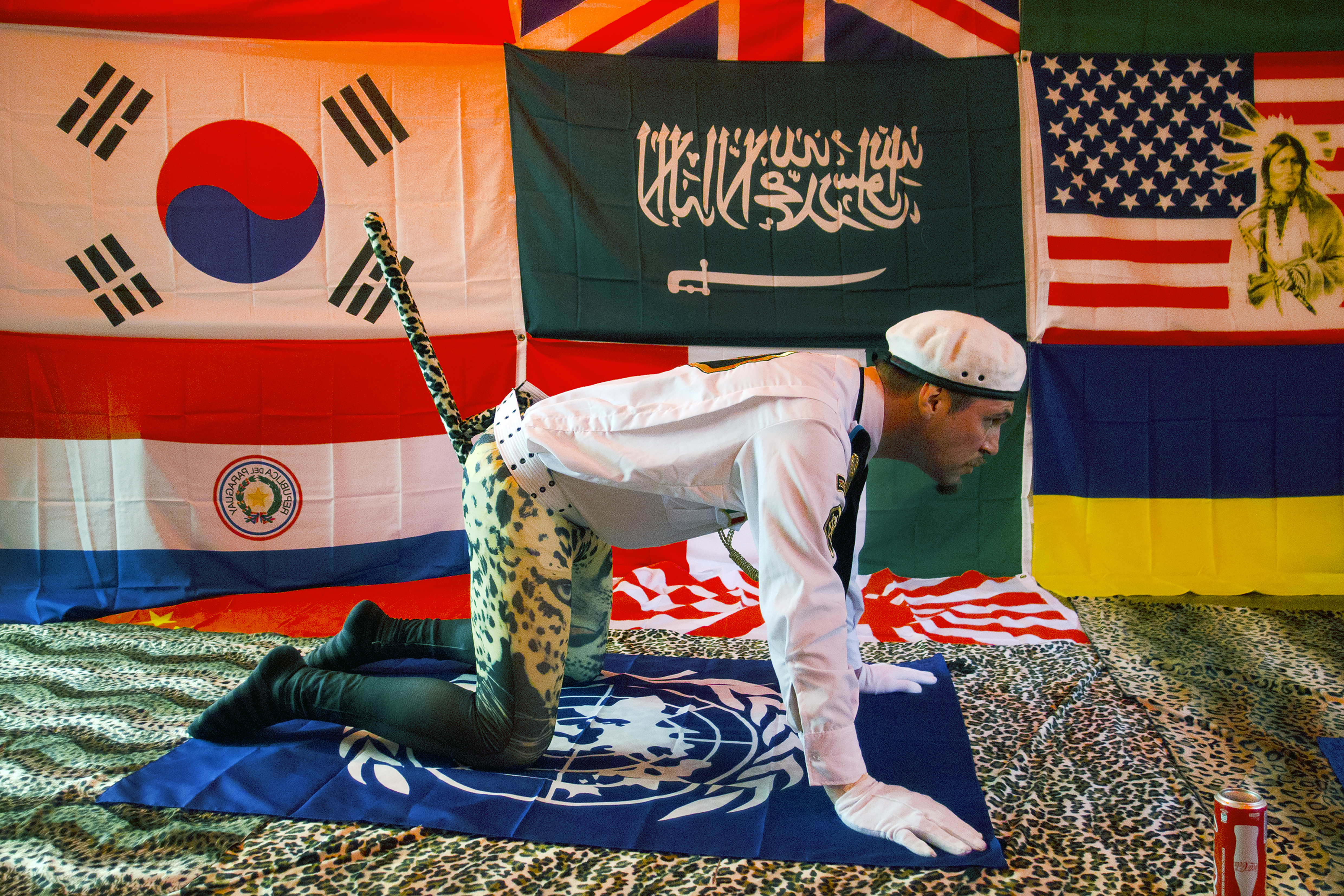 Mixed media installation ca. 600 cm x 700 cm
diverse Flaggen, Schlagstock, Coca-Cola Dosen, Cro-Magnon Totenkopf

VON SCHWANZ ZU SCHWANZ - VON FAHNE ZU FAHNE. Die Installation dient als Setting für eine Performance. Marco Schmitt verbindet mexikanische post-indigene Reinigungspraktiken des Chamula-Stammes und der Tlahuicas mit politisch motivierten Interventionselementen. Eine partizipatorische Performance, bei der das Publikum mit dem Künstler interagiert. Der Künstler wird zum Schamanen, der auf der NATO-Flagge steht und Coca Cola in jede der vier Himmelsrichtungen rülpst, um sich von Dämonen zu befreien und zu reinigen. Das Rülpsen von vier Wörtern nacheinander wird zu einem spirituellen Ritual. WESTEN - RÜLPSEN - OSTEN - RÜLPSEN - NORDEN - RÜLPSEN - SÜDEN - RÜLPSEN. Danach wird jede Person des Publikums von Schmitt angewiesen, sich auf die UNO-Fahne zu stellen, buchstäblich auf vier Beinen wie ein Tier, mit der Absicht, jede Person in ihr individuelles Geisttier mit Schwanz zu verwandeln. Schmitt berührt das Wurzelchakra und den Anus jeder Person mit einem Polizei-Tonfa, das mit Jaguarfell überzogen ist. Der Tonfa wird zu einem schamanistischen Werkzeug. Es ist eine Schwanzverlängerung, die mit dem Wurzelchakra des Menschen verbunden ist und zu einem Tier mit Schwanz und vier Beinen wird. Der Schwanz ist ein verlorenes Körperteil und das Wurzelchakra ist rudimentär. Der Tonfa-Jaguarschwanz ist ein Symbol für Massenkontrolle oder Massendomestizierung, das hier zu einem schamanistischen und animalischen Werkzeug zur Rückverwandlung der verlorenen Wildnis zweckentfremdet wird. VOM SCHWANZ ZUM MÄRCHEN!

ENG
FROM TAIL TO TAIL - FROM FLAG TO FLAG. The Installation is as a setting for a performance. Marco Schmitt combines mexican post-indeginous cleansing practices by Chamula Tribe and Tlahuicas with political motivated interventional elements. A particpatory performance, in which the audience interact with the artist. The artist becomes a shaman standing on the NATO flag - burping Coca Cola into each of four cardinal directions to get liberated and cleansed from demons. Burping four words after one another becomes a spiritual ritual. WEST - BURP - EAST - BURP - NORTH - BURP - SOUTH - BURP. Afterwards each person of the audience gets instructed by Schmitt to position on the UNO flag, literally on four legs like an animal.The intention is to transform each person to their individual spirit animal with a tail. Schmitt touches each person´s root chakra and anus with a police tonfa covered in jaguar fur. The Tonfa becomes a shamanistic tool. It is a tail extension connected with people´s root chakra becoming an animal with a tail and four legs. The tail is a lost bodypart and the root -chakra is rudimentary. The Tonfa jaguar tail is a symbol for mass control or mass domestification which is misappropriated here to an shamanistic and animalistic tool to retransform the lost wilderness. FROM TAIL TO TALE!