XTERMINATING BADGES
Manifesta 11, Zürich, Schweiz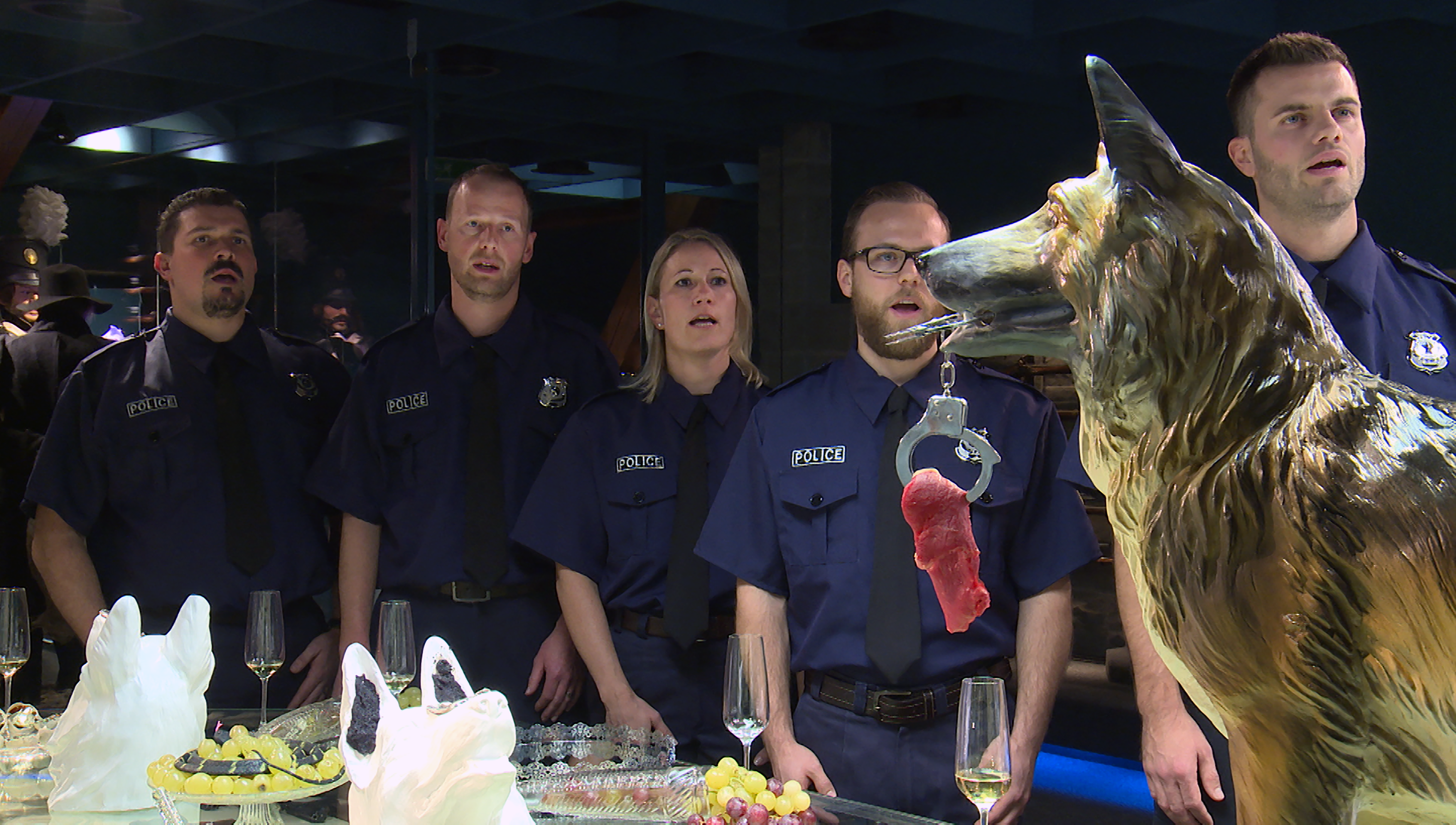 Film HD 29 min.
produziert von Manifesta 11 in Kollaboration mit der Kantonspolizei, Zürich, Schweiz.


Schmitt ́s Vorlage für "Xterminating Badges" war Luis Buñuels filmisches und surreales Meisterwerk "The Exterminating Angel" von 1962. Eine Gruppe reicher und einflussreicher Freunde trifft sich eines Abends zu einer extravaganten Dinnerparty und wacht am nächsten Morgen im selben Raum auf, unerklärlicherweise unfähig, die Villa zu verlassen. Die makabre Metapher aus dem Spanien der Franco-Zeit findet sich auch im heutigen Zürich wieder, wo das mit konfiszierten Waffen vollgestopfte Polizeimuseum die klaustrophobische Kulisse für das Drama bildet. Bei der Rekonstruktion jenes surrealistischen Films hat Schmitt vor allem eine Änderung vorgenommen, die zu einem bemerkenswerten Ergebnis führt: Alle Figuren werden von Polizisten aus dem Kanton Zürich gespielt. Schmitts Interesse an der Polizei hat mit der heiklen Balance zwischen Freiheit und Sicherheit zu tun - wann und warum Menschen das eine aufgeben, um das andere zu gewinnen. Den Polizisten, die an Schmitts Method-Acting-Workshops teilgenommen haben, sieht man jedoch an, dass sie die komische Befreiung von ihrer professionellen Persona genießen. Obwohl die Strafverfolgung vielleicht das Letzte ist, was einige Leute mit Absurdität assoziieren würden, zeigt die Szene, in der die Charaktere ein spezielles Tonessen in Formen formen, die ihr Lieblingswerkzeug oder ihre Lieblingswaffe mit ihrem Lieblingstier kombinieren, wie symbolisch die Regeln und die Ikonographie von Recht und Ordnung wirklich sind - und wie reif sie für eine Untersuchung sind.

ENG
Schmitt ́s template for "Xterminating Badges" was Luis Buñuel's cinematic and surreal masterpiece "The Exterminating Angel" from 1962. A group of rich and influential friends meet for an extravagant dinner party one evening and wake up the next morning in the same room, inexplicably incapable of leaving the villa. The macabre metaphor from Franco-era Spain is not lost in present-day Zurich, where the police museum, bristling with confiscated weapons, is the claustrophobic setting for the drama. In recreating that Surrealist film, Schmitt made one change that, above all others, led to a remarkable result: all characters are played by police officers from the canton of Zurich. Schmitt's interest in the police has to do with the delicate balance between freedom and security––when and why people give up one to gain the other. The police officers, who took part in Schmitt's method acting workshops can be seen, however, to enjoy the comic release from their professional personae. Though law enforcement is perhaps the last thing some people would associate with absurdity, the scene where the characters mold a special clay dinner into shapes combining their favorite tool or weapon with their favorite animal reveals just how symbolic the rules and iconography of law and order truly are––and how ripe they are for investigation.



Xterminating Badges ( 5 min, excerpt, HD Video, 2016):




Xterminating Badges Dokumentation ( 22 min, 2016):
Schweiz Aktuell, Fernsehbeitrag im SRF ( 4 min, 2016):